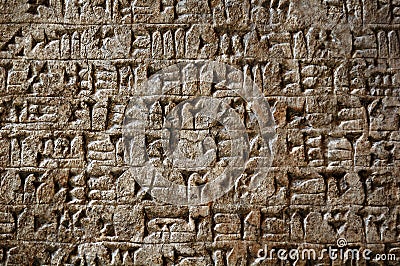 The ancient Sumerians were the first people to develop writing.  It is called cuneiform writing. The ancient Sumerians kept records of everything.  It was a way of knowing what they had in their warehouses or what were the important laws. So they invented writing. Their language began as pictographs just like the Egyptians.  But pictographs are not easy to form into sentences, so they started to use triangle shapes to represent sounds and later on make words.
The second writing can be found in ancient Egypt, over 5000 years ago. Scribes wrote things down using pictures. Scribes used a system of pictures to write. These pictures were called hieroglyphics. It was beautiful art. Each symbol had a meaning.
But it took time to write things down using hieroglyphics. The scribes needed a faster way to write therefore they created a new written language called Demotic.
Many years later, when archaeologists discovered hieroglyphic writing on the walls of tombs, they could not read it. However, about 200 years ago, Champollion found a stone in ancient Egypt. There was an inscription on the stone. It was a very short story. The same story was written in Greek, in Demotic script, and in hieroglyphics. Scientists could read Greek. They could even read Demotic script. Thanks to  Jean-Francois Champollion, they could now read hieroglyphics! This stone was named the Rosetta Stone. The Rosetta Stone is currently on display at the British Museum in London, England.
cuneiformworksheet-150521125744-lva1-app6892
decoding_ancient_egyptian_hieroglyphs
AncientEgyptHieroglyphicsDecodingWorksheetActivity-1
https://discoveringegypt.com/egyptian-hieroglyphic-writing/hieroglyphic-typewriter/
http://inspiredclass.blogspot.com.es/2012/09/make-your-own-cuneiform-writing-tablets.html